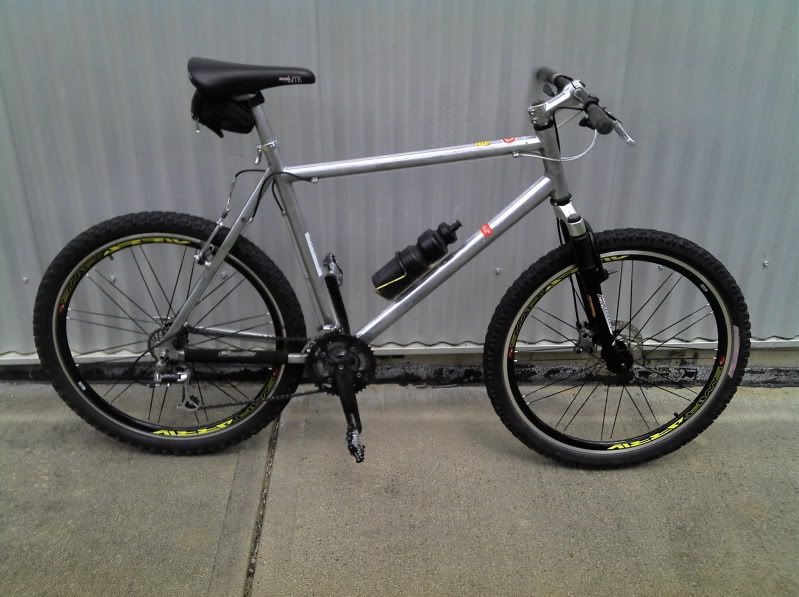 Since a Fred like me largely considers themselves a "Roadie" - we would not condescend to actually paying good money for a mountain bike. This serves the dual purpose of having a convenient excuse for our poor performances (see, the frame cost me $7 at the tip!) but allowing us to participate in building something new.
Mountain bikes are completely wrong. For starters, that boingy suspension thing up the front can potentially be so expensive it threatens to be the most expensive thing in your fred shed. Also, the astonishing wonder that is hydraulic disk brakes make the pathetic calipers on your "good" roadie seem like they have all the power of a newborn squeezing your finger.
Building a mountain bike for a Fred is a world of horrible compromise. Mountain bike wheels need to be tough, not light, so that goes against every fibre of the fred's body. Stuff has to work together - you have to be mindful of things like brake disk sizes, adapters, post mounts, enormous seat post sizes and having to buy a new cassette tool because the hallowed Campagnolo company don't do mountain bikes.
The last point was the toughest for this particular fred. Since all the SunTour stuff is too old, and Campagnolo don't make mountain bike gear, you have to suffer the indignity of running Shimano or SRAM. Shimano in particular is irksome because the same company makes fishing gear and it's bicycle components adorn every broken Huffy on the planet. It's not cool, you can't fetishize it like you can the wondrous Campagnolo Ergo lever. You can't geek out over the history of the company like you can the beautiful losers of the industry like SunTour. Nobody is going to write "Sunset for Shimano" like
this guy
or start a "Shimano Only" website like
these guys
.
Which is a shame because the front derailleur on a mountain bike works so much better than a typical roadie front derailleur it's embarrassing, and hydraulic disk brakes you can operate with a single digit are so damn good they ought to be banned. The places one of these things will go still astonish me (nothing seems too steep) and the tricks you can pull will make you feel like you're 10 years old and just learned how to ride. So, the mountain bike should be used only sparingly and for ironic purposes only.